NFL Football Column: Tom Howard's Stock Up/Stock Down
November 29, 2012
Week 13 Preview: QBs and RBs
Tom Howard
Writer, Fantrax
Stock Up: QBs
Matthew Stafford vs Indianapolis: Matt Stafford and the Detroit Lions love to throw the ball. And how can you blame them. Stafford has a cannon for a right arm and a machine he throws to in Megatron. Stafford is 1st in the NFL in pass attempts and yards. This game has shoot-out potential, but the reason I think it isn't a lock, is I'm not sure the Colts can keep up with this pass attack.
Matt Ryan vs New Orleans: Not a week has elapsed without Ryan on my List. More often than not, he has been Stock Up. Much more often on the entire season. Especially the first time they played New Orleans. I predicted 350 yards and 3 tds. He had 411 yards and 3 tds. This once again will be very high scoring, so expect a similar performance from Matty Ice.
Tony Romo vs Philadelphia: Did anyone else watch that powerful Monday Night match-up this past week? Cam Newton absolutely shredded the Philadelphia Eagles D, like RG3 before him. They have absolutely given up on the season. Even if they hadn't, they are still terrible. Especially since they fired Castillo as their D coordinator. Oh they're a dynasty alright. Romo will have a huge game.
Stock Down: QBs
Philip Rivers vs Cincinnati: This is getting too easy. I've basically got three MVPs or should I say (L)MVPs for every week. Philip Rivers would be a HUGE vote-getter for the latter. If you're still starting this P.O.S. I'm guessing you're either (a) in a 20 team league, or (b) Philip Rivers. I do know that if you are still starting him, you won't be making the Fantasy Playoffs. C'mon Maaaaan.
Andrew Luck at Detroit: Luck has had a very good rookie season, and will be in the running for ROY for certain. But, his play on the road has not been good. He has just 4 tds to 10 ints. He is averaging 289 yds/gm in those same road games, just not finding the end zone. And Detroit has been pretty good against the pass this season. Stock Down this week for Mr. Luck.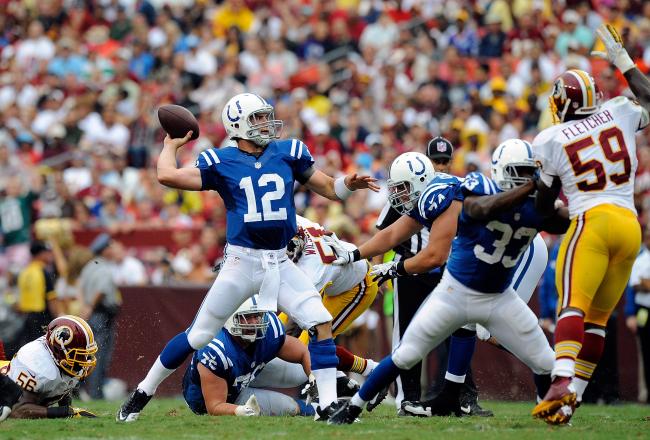 Carson Palmer vs Cleveland: Cleveland has not been the best pass D this season, but having cornerback Joe Haden back has helped a ton. He is one of the best corners in the NFL, and has played like it this season. This game has a forecast for a damn tycoon. As if this game wouldn't have been bad enough. This will probably be the worst game of the NFL Season. Anyhow, with the awful conditions, both teams will be looking to get the ground game going.
Stock Up: RB
s
Trent Richardson at Oakland: How many really good Rookies have there been this season? There's a handful of them that could have easily won ROY in previous years, if not for the very strong class this year. Richardson has been what the Browns hoped for. He has 209 carries on the season, which is fifth in the NFL. He has taken 6 of those to the house. And as mentioned with Carson Palmer about the weather forecast for Oakland, Richardson will get a ton of carries. He has been scratching the surface of 30 carries the last couple of games, and just might reach it Sunday. And, oh yeah, Doug Martin vs. the Raiders. His fellow rookie didn't fare too bad against them.
Jamaal Charles vs Carolina: This seems like a huge game for the fellow Longhorn. Bryce freakin Brown ran ALL over the Panthers on MNF. And no, I don't know the answer to your question: who the hell is Bryce Brown? I do know Charles, and he is one of the most explosive 'backs in the NFL. And Brady Quinn is starting for KC, obviously they aren't throwing the ball. Charles has been good of late, expect greatness this week.
Arian Foster at Tennessee: Foster's carries this year: 269. Most in the NFL. Next most: 231. That is ridiculous. His last two games against the Titans he has 320 total yards and 3 tds. And he is the Fantasy MVP thus far, and after another game against the Titans, he will be close to locking up the award.
Hopefully, you aren't going against him this week with your Fantasy Playoff hopes on the line....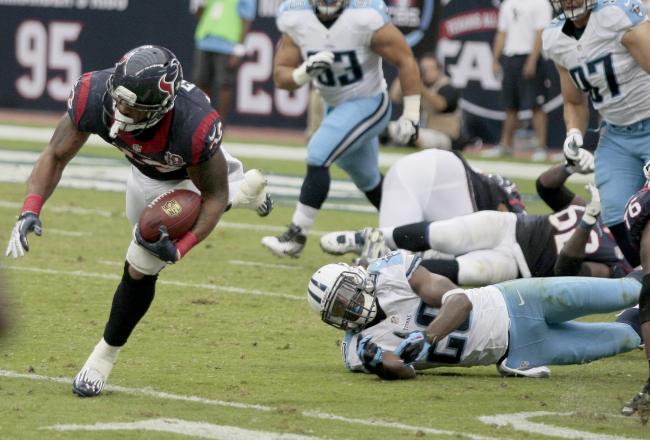 Stock Down: RBs
Ray Rice vs Pittsburgh: It is a tough call to put Rice on Stock Down, but he is facing the #5 Rush Defense in the NFL. Rice will struggle to get yards against this always stout defense, but he is always a threat in the receiving game as well. (Just ask the San Diego Chargers about that one). Too soon? If Rice is on your team, you are really going to be needing a score out of him, because I don't think he'll get enough Fantasy points with just yards (like he did against the Chargers).
Marshawn Lynch at Chicago: Lynch will get his carries, he is second in the NFL. But, it's what he does with those carries, or what he won't be able to do. Chicago has the No. 8 Rush D in the League and will be playing at home. Adrian Peterson did go for over 100 yards on them last week, but with all due respect Marshawn, you are not Adrian Peterson. And I did say with all due respect. The big brusin' back outta California won't see much daylight against Urlacher and company this week.
Steven Jackson vs San Francisco: SJax did go for over 100 last time these two met, but last season he had a game in which he had 10 carries for 19 yards. So, this is me saying, there is no way he gets 100 yards in this rematch of the tie from Week 10. And, I'm going to go on a limb and say he won't reach the end zone either. So, if you decide to start Jackson, goooood luck.
Previous Tom Howard's Stock Up/Stock Down column
Recent NFL columns
Register FREE!

View All Games

Classic Draft Lobby

Mock Draft Lobby

Create League

Join League (FREE!)