NFL Football Column: Tom Howard's Stock Up/Stock Down
December 5, 2012
Week 14 Preview:Fantasy Playoffs Edition
Tom Howard
Writer, Fantrax
Stock Up: QBs
Peyton Manning at Oakland: Look no further than the Thursday Night Game in Peyton Manning. For much of the season, the MVP race has really been between Matt Ryan and Peyton Manning. After the last few weeks, there is no question Manning is the front-runner. In the first meeting of these two AFC West rivals, Manning and the Broncos demolished the Raiders, with Manning throwing for 338 yards and three touchdowns. Expect similar numbers for your future 2012/13 MVP.

Eli Manning vs New Orleans: Looks like the Manning brothers are both going to put up big numbers this week. New Orleans has been dreadful on defense this year, and the Giants need this game badly to get back on track. There will be other Giants teammates listed later on the list...
Josh Freeman vs Philadelphia: The Eagles are unbearably bad defensively, and everyone knows it. They've given up at least 30 points in five of their past six, and the exception was 28 points. The Buccaneers are desperate and will crush the Eagles come Sunday. Freeman will be a huge play in your 1st round Playoff game.
Stock Down: QBs
Cam Newton vs Atlanta: No quarterback has been hotter than Newton the past two weeks. But, I'm not going to let that fog my memory of his sophomore season. It hasn't been what everyone expected, a growth from his rookie season with a shot of making the playoffs. Granted, last time these two teams met Cam did have a great game, but I'm not seeing it this time. Atlanta has only allowed 11 passing touchdowns all season and is middle of the pack for passing yards allowed.
RG3 vs Baltimore: RG3 has had an amazing rookie season, no doubts about that. I don't see Sunday's matchup against the Ravens as being his best performance of the year. Baltimore has given up the fewest number of passing touchdowns (10) in the NFL. And, Baltimore has been very vulnerable agains the run this season. Look for heavy doses of Alfred Morris, especially after last week's shredding of the Giants. RG3, my friend, your stock will be slightly down this week.
Philip Rivers at Pittsburgh: Enough said. Don't get me started. Moving on.
Stock Up: RBs
Trent Richardson vs Kansas City: Richardson is averaging a hair over 29 touches per game over his last five games. That is about as good as it gets for you and your Fantasy Team. And you certainly want that to keep up now that it is Playoff time. Pair that with a great matchup at home against the Chiefs, and the rookie back should have a big time game for your Team. Kansas City is 26th against the run, so Richardson owners are salivating as they read this...
BenJarvus Green-Ellis vs Dallas: BJGE owners: "get a load" of these stats. Over his last three, "the law firm" has 69 carries for 348 yards and two touchdowns. Thats an average of 23 carries/gm for 116 yards/gm. And now for some more perspective. His previous 9 games he averaged just over 17 carries/gm for 59 yards/gm and three touchdowns. He has dramatically increased his play the last three weeks and expect that to continue against the Cowboys, who have struggled to stop anyone of late.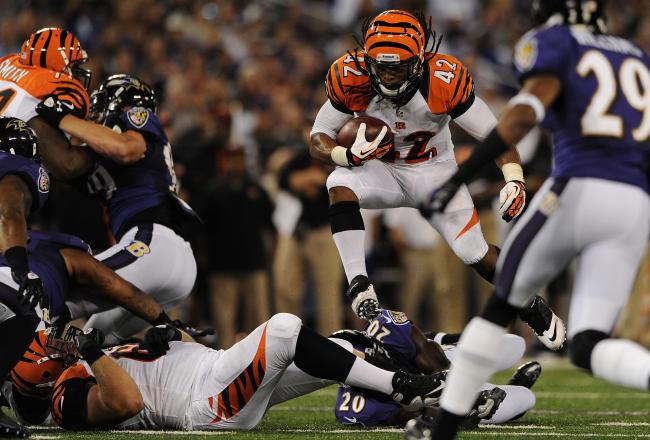 Steven Jackson at Buffalo: Jackson seems to have gotten his swagger back, as he has racked up solid Fantasy numbers the last four weeks. Go ahead and book him for five straight, with a great matchup agains the 30th ranked rush defense, the Buffalo Bills. No one has given up more rushing touchdowns than the Bills, which has Mr. Jackson lined up to carry your team to the second round.
Stock Down: RBs
Stevan Ridley vs Houston: Ridley has been very good this year for New England and your Fantasy squad. I don't think this will be one of his better games in this Monday Night showdown against the Texans. Houston does have injuries that are starting to pile up, but they are still ranked 2nd against the run. And, Chad Henne and Stafford have lit them up as of late, so look for Brady and the Pats to throw more often than not.
Frank Gore vs Miami: The Dolphins own the #8 rush defense and only allowed five rushing touchdowns, fourth in the NFL. The 49ers love to run the ball, but Miami will be forcing Colin Kaepernick to beat them. I think this game could be closer than expected, further raising the question of who should start at quarterback for the '9ers.
Ryan Mathews at Pittsburgh: Really?
Stock Up: WRs
Andre Johnson at New England: Well New England is still dreadful defending the pass. Giving up 292 receiving yds/gm and 22 touchdowns, they are once again near the bottom of the league. This game could very well be a shoot-out and Andre will have something to say about it. Over his last three, he is averaging over 18 Fantasy pts/gm. And, he is fourth in the NFL in receiving with 1,114 yards. He's in for a big Monday Night.
Demaryius Thomas at Oakland: See above, Peyton Manning. Demaryius will once again have a monster game.
Victor Cruz vs New Orleans: See above, brother Eli Manning. I foresee Victor doin' the Salsa Dance twice for you Fantasy Team this weekend. And damnit, I'm playing him. Maybe a jinx??
Stock Down: WRs
Larry Fitzgerald at Seattle: This is honestly about as dreadful as a matchup as it's going to get. For starters, playing at Seattle might be the toughest environment in the NFL. They have that great secondary, also. And, let's not forget who is "throwing" the ball to Fitzgerald. Ryan Lindley. I think the only contest for Fitz in this game is to see who gets more catches from Lindley, he or Seattle's defense. I'm taking the latter.
Steve Smith vs Atlanta: As mentioned with Cam, I don't see much happening in the pass game for Carolina on Sunday and obviously that negatively affects Steve Smith. He hasn't had his best season, but did go for a score (only his second) last week. Don't expect much out of the 12 year vet.
Miles Austin at Cincinnati: Austin always seems to be hobbled by some sort of injury. This is true this week when the Cowboys travel to Cincinnati to take on the surging Bengals. Cincy ranks 11th against the pass and are tough to beat at home. If Dallas wants to win, they must get DeMarco Murray going. And Romo's top two passing targets are Dez Bryant and Jason Witten. That doesn't leave much for Austin.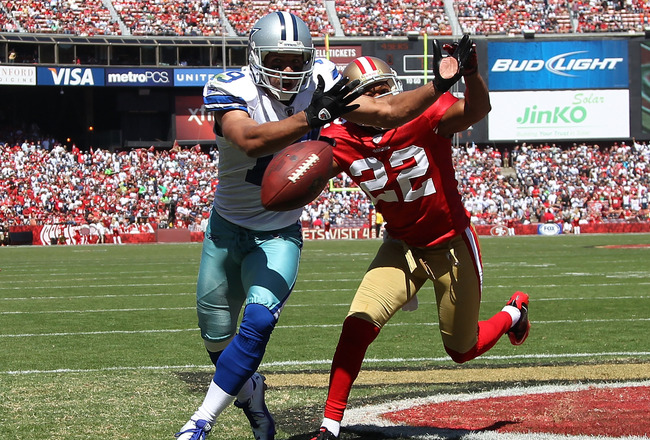 Previous Tom Howard's Stock Up/Stock Down column
Recent NFL columns
Register FREE!

View All Games

Classic Draft Lobby

Mock Draft Lobby

Create League

Join League (FREE!)